Thanks for an amazing Shop Hop!
---
Upcoming Classes: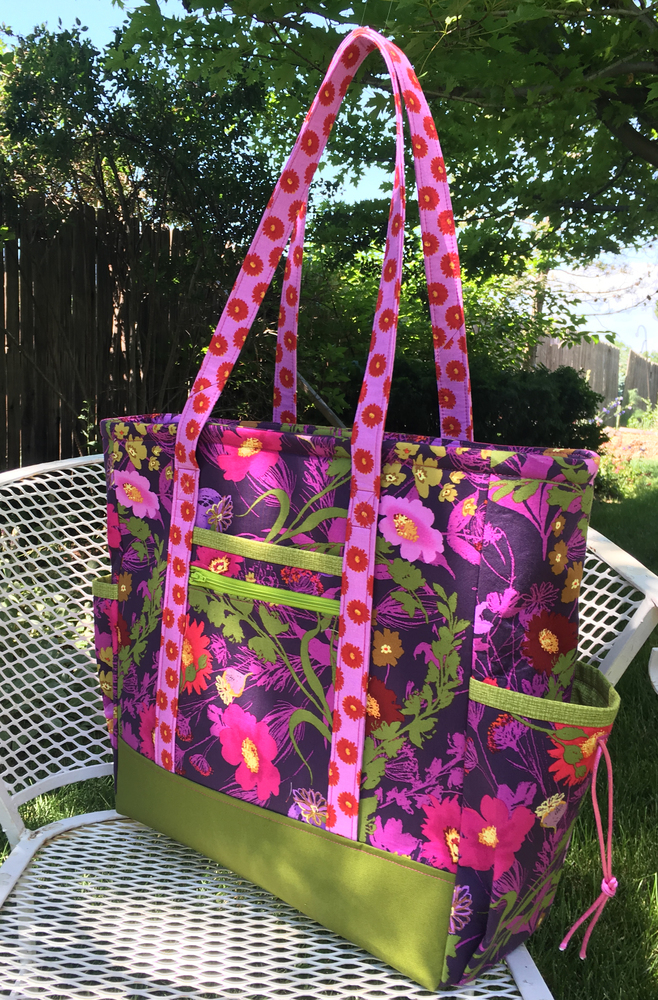 Professional Tote Bag
Tuesday, October 4, 9:30 – 5
Monday, October 17, 9:30-4:30
$65
Pat Fitzpatrick
Here's the class you've been waiting for – The Professional Tote by CreativeThimble!
Large (18″w x 15″t x 5″d) tote that has all the pockets and compartments needed for today's professional woman. Whether you work in an office or not, this tote has it all. There is a pleated pocket on each side of the tote to hold a bottle of water, umbrella, magazine, baby bottle or telephone. Also, on the front is a zippered pocket to hold your ID and Passport for your airport travel. Behind that pocket is one for your boarding pass.
On the backside is one large pocket for a newspaper and strap for putting over your luggage handle. On the inside, there is a large center dividing zippered pocket that holds file folders. There is plenty of room inside for a laptop computer. Several pockets are inside for your business cards, keys, pens, PDA, and more. To finish it off, there is a zipper that will close tight to keep the contents secure. This would also work great as a sewing tote with a place for patterns or books, fabrics and notions.
In this class you will learn all the ins and outs of zippers (yes, you can do it), and how to handle bulky seams, lots of pockets, bottom corners, and lots more. Come, have fun and leave with a finished bag!